The San Gabriele Sanctuary.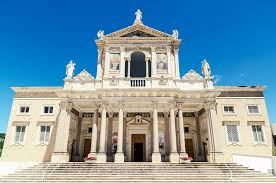 The San Gabriele dell'Addolorata Sanctuary is a Sanctuary of the Catholic Church located at the foot of the Gran Sasso d'Italia, in the Municipality of Isola del Gran Sasso, in the province of Teramo. Around 1215, St. Francesco of Assisi founded a convent for his Franciscan order, in the municipality of Isola del Gran Sasso d'Italia, where it remained until the time of the Napoleonic suppressions; this convent is the current Sanctuary of San Gabriele.
The complex includes:
the convent, which houses the headquarters of the Passionists, where St. Gabriel died in 1862;
the ancient church, built in 1908 in honor of San Gabriele;
San Gabriel is also called the Saint of young people, of miracles and of smiles. He was declared Blessed in 1908 and proclaimed Saint in 1920. The Shrine is a pilgrimage destination very dear to young people. There are two main appointments: one in March, one hundred days from the state exam, to take the high school diploma, in which thousands of students from Abruzzo and Marche arrive at the Sanctuary, to pray for a successful examination, and in which the feathers are blessed; and another in the last week of August, in which the tent city is celebrated during which hundreds of young people (but also not so young) camp for five days giving life to a religious meeting.